STV APPEAL 2021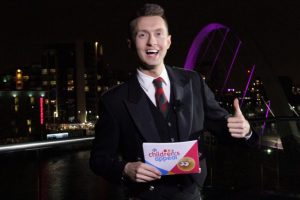 We are fundraising once again for STV Children's Appeal. This will make such a difference to the lives of children affected by poverty in East Dunbartonshire and across Scotland.
We are Delighted to confirm that Sean Batty will come to the deli at 3pm on Thur 16th He'll be happy to meet and greet customers etc. This is ahead of our fun run 10k on Sun 19th at 11am. Customers wishing to join us on the run and help raise funds can register interest here
Quote from STV Appeal
"Billington's of Lenzie has been supporting STV Children's Appeal for many years now and we are delighted to have them celebrate our tenth birthday this year. It's hugely encouraging when local companies like Billington's can use their business for good and make a difference for the 1 in 4 children who live in poverty by generating vital funds. We wish all their runners success this weekend and know that the warm welcome awaiting their return will spur them onto those final miles with a smile." – Graham Steven, Fundraising Manager, STV Children's Appeal.